Malcolm Tan Lutherie
Malcolm Tan Lutherie | Luthier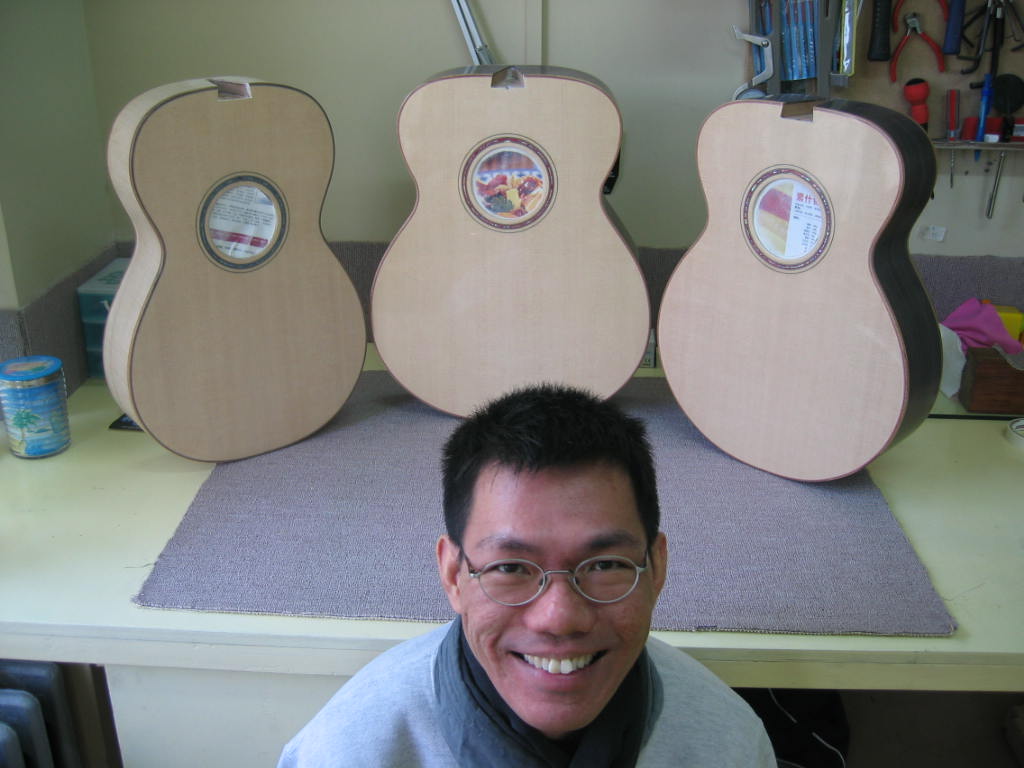 I built my 1st acoustic and electric guitar as part of the curriculum at the "Roberto-Venn School of Luthiery" located in Phoenix, AZ during the summer of '94.
I've been asked many times why study luthiery of all things. Some truths sound absurd and this is one of them. I'd wanted to spend some time in the U.S. and the best way I thought of then was to pursue a course of some kind. I wasn't keen to pursue an academic course and while perusing a guitar magazine, I came across an advertisement for a luthiery school. I have been playing the guitar since I was 17 and have always tinkered with my personal guitars so I figured, why not.
Upon my graduation from "Roberto-Venn", I returned back to Singapore and started "Guitar Syndicate", a guitar retail and repair store with some acquaintances. We were swamped with repairs and the odd custom work but I got burned out after 11 months in the business due to lack of support from my business partners and called it quits.
During my "RV" days, I was only interested in electric guitar construction and have never really intended to build flat top acoustic guitars. It was a trip to the Santa Cruz Guitar Company while operating "Guitar Syndicate" when my desire to build quality acoustic guitars was kindled.
After a couple of years search for an apprentice position in an acoustic guitar shop in North America; I was referred by Linda Manzer a world class luthier in her own right, to Canadian master luthier, Sergei de Jonge. I apprenticed with Sergei for a year and am both grateful and thankful to the love, generosity and hospitality of the de Jonges
In 2001, renowned Taiwanese record producer, Jonathan Lee, sought my assistance in starting up and overseeing a small-scale guitar making shop in China where we would build custom flat top acoustic guitars of my designs. In late November 2002, I took the plunge and relocated from Singapore where I was born and bred to Suzhou, China where together with a crew of 2, we built an average of 3 guitars a month under the "Lee Guitars" label.
"Lee Guitars" relocated from Suzhou to Beijing, the Chinese capital in April 2004. I have since parted ways with "Lee Guitars". During my tenure with them, I'd designed 5 original models, designed all the tooling, planned the layout of the shop, taught the guys the basics in luthiery, was responsible for the voicing of all the instruments, did most of the custom work, installed the electronics and personally set up all the guitars.
Since June 2005, I have relocated back to Singapore where I offer a guitar repair and restoration service. I am presently the authorized dealer for Reverend guitars, Gries, Port City amps and cabs, PWE amps and guitars, Lizard Leg, Plum Crazy FX, Skreddy  pedals and Budz pickups in Singapore and am working toward expanding my product line. I'm also building my own line of solid body electric guitars under my "NosNuma" label.
I'm a lifetime member of A.S.I.A., the Association of Stringed Instruments Artisans and a G.A.L. member, Guild of American Luthiers since 1994.
Contact details
http://www.mtlutherie.com/